— Speech by Mr. Sun Ruizhe, President of China National Textile Industry Council, at the 2021 China Textile Innovation Annual Conference · International Forum on Functional New Materials
On May 20, "New Material and New Kinetic Energy in the New Era -- 2021 China Textile Innovation Annual Conference · International Forum on Functional New Materials" was held in Changle District, Fuzhou City, Fujian Province. Mr. Sun Ruizhe, President of China National Textile Industry Council attended the meeting and delivered a speech.
 The following is the full text of the speech.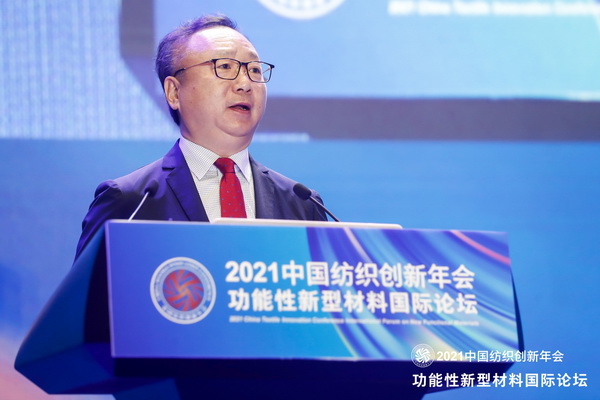 Distinguished guests:
 It gives me great pleasure to meet all of you here in Fuzhou, the "blessed state", to talk about the "benefits of fiber to the people". On behalf of the China National Textile Industry Federation, I would like to extend congratulations on the successful opening of the Forum. Thanks to the friends from all walks of life who care and support the development of textile industry for a long time!
We are in a world of weaving. The development of the textile industry is giving new annotations to the terms "meridian, latitude and earth" and "beautiful mountains and rivers". From the beauty of luxurious clothing to the safety of people's livelihood, from the strong national defense to the smooth transportation, fiber materials are widely used in various fields of production and life. The application of special elastic rope equipment behind the landing of "Tianwen 1" on Mars is a "celestial" move of fiber. Fiber innovation not only determines the value and application of textile industry, but also affects the development and form of economic society.
Developing new fiber materials is an important engine to construct modern industrial system.As the core component of strategic emerging industries, the breakthrough of new fiber materials is an important source of product innovation, equipment innovation and application innovation, as well as a strong support for the transformation and upgrading of traditional industries and the breeding and development of emerging industries. Fiber industry is capital-intensive and technology-intensive, and its development has a strong driving effect on modern service industries such as scientific research and innovation, financial service and information service. New materials are important carriers for the realization of advanced industrial base and modernization of industrial chain.
The development of new fiber materials is an important cornerstone of building the highland of science and technology innovation.Fiber innovation is a multi-disciplinary and multi-field fusion innovation, which is the comprehensive application and integration of cutting-edge technologies such as nanotechnology, biotechnology, information technology and advanced manufacturing. As a fundamental innovation, the development of new materials contributes to the formation of original topics and major directions, and is an important way to put forward new theories and open up new fields. As a comprehensive innovation, the development of new materials helps to promote the convergence and integration of innovation resources, and is the condensation core for the formation of diversified innovation ecology.
The development of new fiber materials is an important force to extend the space of consumer market.The innovative development of fiber materials determines the function and performance, production and application of products. Flexible display fabrics based on light-emitting fiber materials are opening up the true "smart wearable"; Deeper innovation in green fibrous materials is driving sustainable fashion. The diversified development of fiber drives the continuous development and enrichment of raw material market; The multifunctional innovation of fiber is pulling consumption upgrade and industry upgrade. New materials underpin new markets.
Fujian is a major economic region in China and at the forefront of opening up. It is of special importance in realizing the overall strategy of the great rejuvenation of the Chinese nation and in building a new pattern of double-cycle development. During his visit to Fujian this year, General Secretary Xi Jinping put forward "four greater" new requirements, which endowed Fujian with a higher positioning of The Times. As a competitive industry, Fujian has formed a complete fiber industry system from raw material production, fiber manufacturing, textile processing to terminal brand. In particular, many world-class fiber and spinning enterprises emerged in Fuzhou Changle, forming hundreds of billions of industrial clusters. "Fourteenth Five-Year" period, new materials become Fuzhou to strive to build one of the five international brands. Developing the textile fiber industry is a strategic choice for fujian to undertake the new mission in the new period, which is related to the reality and the future, as well as a natural and timely move.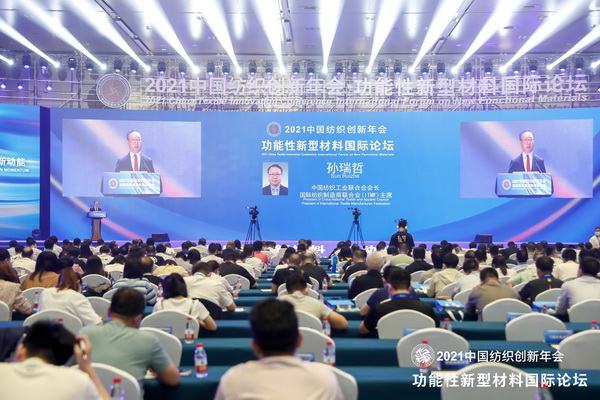 At present, the world's century-old changes continue to evolve, the epidemic's impact on the future is extensive and far-reaching, geopolitics are becoming increasingly complex, and the game between major powers has become more intense. The situation and tasks of ensuring the safety of raw materials and realizing technological autonomy are more urgent. General Secretary Xi Jinping pointed out, "The new material industry is a strategic and basic industry, and a key area of high-tech competition. We must catch up and catch up." Here, we will focus on building an industrial system centered on new fiber materials. Talk about four expectations.
First, we must be lofty, insist on innovation-driven, and accelerate the construction of leading and strategic technological advantages.Focus on advanced basic materials, key strategic materials and cutting-edge new materials, face the frontiers of global science and technology and major development topics, and make breakthroughs in core fiber technology. Strengthen basic research, original innovation, and application innovation, focus on the change of basic properties of fibers and the expansion of derivative properties, and promote the development of new materials toward high performance, multi-function, light weight, and flexibility. Drive industrial innovation with market demand, build a collaborative innovation system, and promote the efficient connection and integration of innovative resources.
Second, we must be solid, adhere to intensive development, and accelerate the construction of a large-scale and collaborative manufacturing system.Consolidate the industrial manufacturing foundation, focus on quality, and consolidate scale advantages and system advantages. Allocate and integrate resources on a global scale, promote mergers and acquisitions and reorganization, and accelerate the cultivation of fiber companies with global advantages. Promote the integration of large and small enterprises, upstream and downstream cooperation in the industry, and build a more efficient industrial chain and innovation chain. Promote the development of clusters and accelerate the construction of world-class industrial clusters. Taking domestic demand as the strategic basis, integrating into major regional strategies, improving supporting systems, and promoting industrial agglomeration.
Third, we must be precise, adhere to digital empowerment, and accelerate the construction of flexible and lean supply capabilities.Integrate into the digital economy and create an ecosystem of coordinated evolution of industrial digitization and digital industrialization. Strengthen the application of artificial intelligence, digital simulation and other tools in the discovery and design of fiber materials, and use data to drive material innovation. Develop intelligent manufacturing, deepen the construction of industrial Internet and public data platforms, and create a flexible and agile industrial chain supply chain. Strengthen the connection with consumer data, achieve accurate matching with the market, rapid response, and develop new models such as service-oriented manufacturing.
Fourth, we must be virtuous, adhere to the green transformation, and accelerate the construction of a sustainable and responsible industrial ecology.With the goal of "carbon peak" and "carbon neutrality", we will speed up the establishment of a green and low-carbon recycling new material industry system. Incorporate green concepts and social responsibility systems into product life cycle management, running through all links such as design, production, circulation, and recycling. Strengthen the development and application of green materials such as bio-based fibers. Accelerate the measurability of green production and deepen the innovation of green services. Explore the application of green financial tools such as carbon finance to facilitate industrial transformation and upgrading.
"Water has its source, so its flow is endless; wood has its roots, so its life is endless." The industry has a long history in fiber, innovation is strong in fiber, and its application is broad in fiber. Fiber materials are fundamental and supportive, but also fundamental and strategic. Stick to one and respond to ten thousand. Let us take the thread as the traction, and strive to become the main driver of the world's textile technology, the important leader of global fashion, and the powerful promoter of sustainable development, serving the new pattern and making contributions to a new era.
Finally, I wish the forum a success, and I wish Fujian a better place.
thank you all!
---
Post time: Jun-18-2021